Welcome to SODIS
NEWS
Online course "Planning & Design of Sanitation Systems and Technologies"
18th of September 2014 – Fabian Suter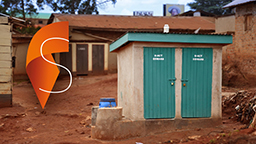 Sandec, in partnership with the EPF Lausanne, is launching its second Massive Open Online Course (MOOC). The course is entitled "Planning & Design of Sanitation Systems and Technologies", and is for free, in English and has French subtitles.
Join the course and learn how to plan affordable and context-specific sanitation solutions. We will present examples of successful and failed urban sanitation systems in low- and middle-income countries. For further information and to sign up for the course, please go to: www.coursera.org/course/sanitation.
Online course on water treatment at household level
10th of March 2014 – Fabian Suter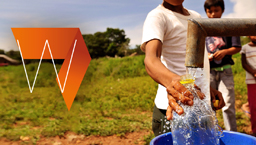 On 7 April 2014, the Department of Water and Sanitation in Developing Countries (Sandec/Eawag), in partnership with the EPF Lausanne, is launching its first Massive Open Online Course (MOOC), entitled "Introduction to household water treatment and safe storage".

The course is free, in English and has French subtitles. For further information and to sign up for the course, please go to: www.coursera.org/course/hwts.

SODIS workshop in Benin
26th of September 2013 – Samuel Luzi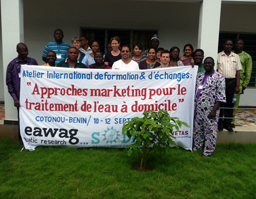 In addition to effective behavior change campaigns, the long term application of household water treatment methods depends on the availability and affordability of HWTS products (SODIS bottles, chlorine tablets of solution, filters). The international SODIS partner workshop in Benin, September 10-12, focused on market-based approaches for the dissemination of such products. Participants from Asia, Africa, and Latin America shared experiences from their own projects, and jointly developed detailed business-models for selected case studies.

Enabling choices
12th of August 2013 – Matthias Saladin
In our project in Bolivia, we have been promoting already since many years several methods to treat drinking water, in particular chlorination, filters, boiling and SODIS. The Ministry of Health has recommended boiling and chlorination for more than two decades and also distributes free chlorine products in emergency situations, for example during cholera epidemics. Recently, different filter products have become available on the market, e.g. ceramic filters from Brazil, and are sometimes used in the aftermath of natural disasters. For the present, in rural areas only boiling and the SODIS method can be adopted, mostly because there are no effective supply chains for the other methods. So far, ten thousands families have been trained in our projects and regularly use one of these method to treat their drinking water. According to post-project evaluations done by Eawag in several closed projects , the families who integrated SODIS in their daily life still use it regularly even years later.
A letter about SODIS from Neema Achieng
16th of July 2013 – Fabian Suter
Neema Achieng is a pupil at the Ring-Road-Primary School in Kenya. Her school is one of 30 schools in Kenya and of 146 schools worldwide participating in the Safe Water School Project. In her letter she describes her experiences with the project and with the SODIS method in particular.
Governmental project in Cameroon
11th of June 2013 - Monika Tobler
Our partnerorganisation Aquacare developed an educational manual on household water treatment and hygiene on behalf of the Ministry of Health in Cameroon. The manual is aimed at the rural population and contains information about the locally available methods such as SODIS, boiling and chlorine tablets. With financial support from UNICEF, the government hired Aquacare to conduct educational programs on HWTS and hygiene in the northern part of the country. More of these training programs are planned for this year.
A SODIS project becomes independent
12th March 2013 – Monika Tobler
Together with Water School Uganda, we introduced the SODIS method in Kisoro, a district in the south-west of Uganda. Capitalizing on the close working relationships with local institutions established during the project, we now handed over the promotion work to local health centers, schools and health promoters. They will ensure that preparing safe drinking water with the SODIS method remains a part of daily life in Kisoro. The 8 to 9 AM radio show informing people about the SODIS method and adequate hygiene practices will be continued on a daily basis as an important activity.
Advocacy for HWTS in India
11th February 2013 – Samuel Luzi
Development Alternatives, our partner in New Delhi, organized a one-day workshop under the theme 'Household Water Treatment and Safe Storage (HWTS)'. The goal of the workshop was to jointly develop strategies and concrete action steps for the country-wide dissemination of household water treatment. Development Alternatives presented a draft strategy document. The 40 participants from different institutions expressed their support of this initiative and decided to advance it together as a network.